Harmful Algal Blooms (HABs)
NANOOS is engaged with several partners on HAB research and monitoring in the Pacific Northwest. NANOOS participates in regional projects that help increase understanding of HAB causes and improve prediction of HAB events. NANOOS provides data analysis products, such as modeled current and temperature forecasts and real-time HAB data, critical to resource managers and shellfish growers for decision making relevant to HABs.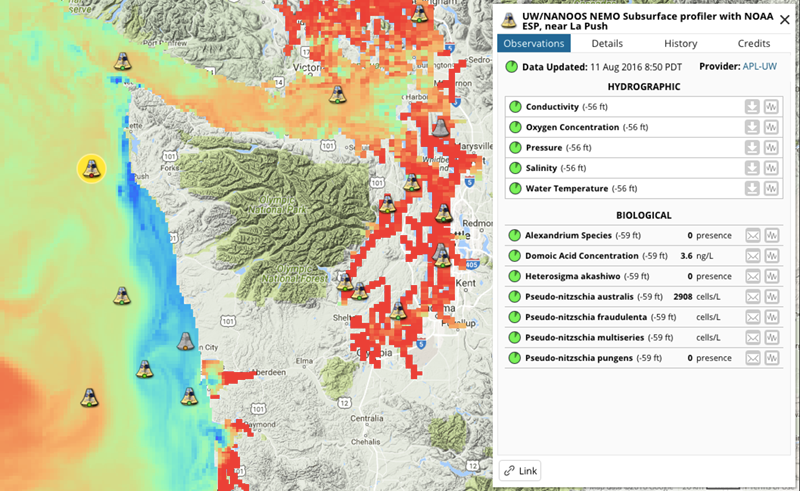 In 2014, IOOS awarded an Ocean Technology Transfer grant to NANOOS partner University of Washington Applied Physics Laboratory to place an Environmental Sample Processor (ESP) on their subsurface mooring located 15 miles offshore of La Push, Washington. The ESP is an autonomous, underwater, robotic marine biosensor developed by the Monterey Bay Aquarium Research Institute and operated by the NOAA Northwest Fisheries Science Center. The ESP observations provides advanced warning of toxic Pseudo-nitzschia blooms. This information can reduce both the negative health and economic impacts of HABs on the Washington Coast. Scientists understand that this HAB often originates in the nearby Juan de Fuca eddy and when winds shift, the cells are transported to the WA coast. In near real-time the ESP detects Pseudo-nitzschia cells and their associated toxin (domoic acid). These observations are available for spring-summer months via the NANOOS Visualization System, enabling coastal shellfish managers and other users to make timely management decisions. Additionally, the project engages tribal communities on seafood safety and advances environmental monitoring through outreach, education, and training, which includes summer internships and Summer Science and Art Camps through the Northwest Indian College.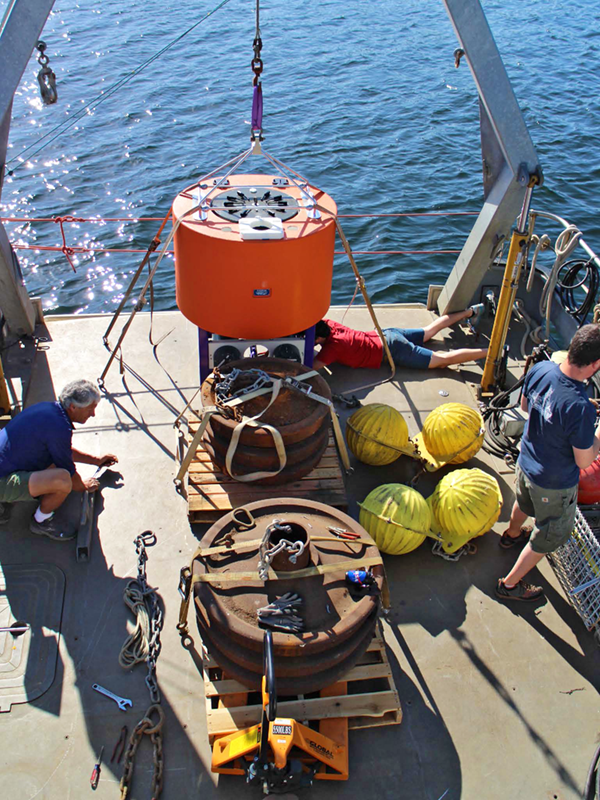 Is Shellfish Safe?
| | |
| --- | --- |
| | Washington Shellfish Safety Information |
| | |
| --- | --- |
| | Oregon Shellfish Closures |
HABs Resources
Real-Time HABs

Timely information on harmful algal blooms in the PNW.
Additional Resources
Detecting Harmful Algal Blooms in the Pacific Northwest
NANOOS Awarded Funds to Study 2015 West Coast Bloom
NOAA Funds HAB Forecasting System
Phytoplankton Bloom in Hood Canal 2016
NANOOS Ocean Technology Transfer Grant for 2014-2017
Overview of 2015 HAB Event
How are HABs Monitored?
Washington
Oregon
Olympic Region Harmful Algal Blooms Partnership
Oregon Coastal Harmful Algae Monitoring
HABs Research
NOAA Northwest Fisheries Science Center HAB Research
Related NANOOS Products
Real-Time Data
The NANOOS Visualization System (NVS) provides easy access to forecast and observation data across a wide range of assets such as buoys, shore and land stations, high-frequency radar, and satellites.
Water Quality for Shellfish Growers
Access a wide range of water quality data tailored to the shellfish growing community.
Samish Bay Biosensor
The NWFSC Environmental Sample Processor (ESP) is an advanced biosensor for micro-organisms, including those responsible for harmful algal blooms.