Ocean Acidification
NANOOS is contributing observations and expertise to increase understanding of ocean acidification in the Pacific Northwest. NANOOS is partnering with shellfish growers, tribal, state and local agencies, and regional shellfish managers to collect and make available vital data for understanding and coping with ocean acidification in the Northwest.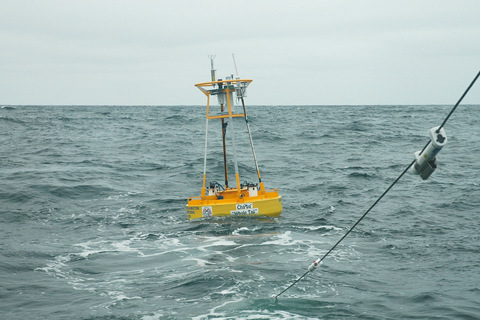 John Payne
In 2010, NANOOS partnered with NOAA-PMEL and relocated a buoy close to a major shellfish hatchery in Hood Canal, Washington, after a state-declared 'oyster emergency'. Also in 2010, NANOOS and the University of Washington first deployed the buoy, Cha'ba, off the coast of La Push WA, an area critical to understanding ocean water off the WA Coast and coming into Puget Sound. NANOOS is working with its partners to host pH/pCO2 sensors on several buoys in the Puget Sound and off the Oregon and Washington coast. NANOOS also serves similar data from other sources, including the shellfish industry.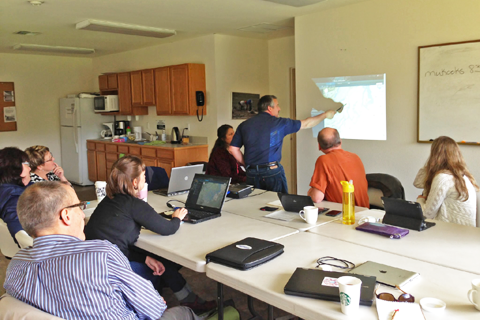 Amy Sprenger
In 2007, NANOOS worked with the National Estuarine Research Reserve System to develop a website allowing easy access to real-time water quality data from sites in Oregon, Washington and Alaska. In 2012 this website was updated with input from shellfish growers to the NANOOS Visualization System (NVS) Shellfish Growers App, providing shellfish growers and restoration managers with better and more information for decision making.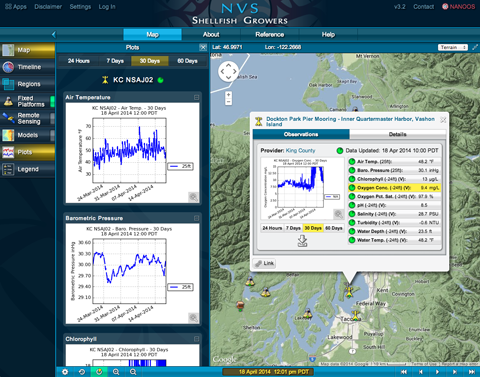 Additional Resources
20 Facts About Ocean Acidification
Ocean Acidification in the Pacific Northwest: The Facts
This fact sheet summarizes our growing understanding of the causes and consequences of ocean acidification in the Pacific Northwest marine waters.
NOAA Pacific Marine Environmental Lab Carbon Program
NOAA Ocean Acidification Program
NOAA Northwest Fisheries Science Center
Washington State Blue Ribbon Panel on Ocean Acidification
Scientific Summary of Ocean Acidification in Washington State Marine Waters
West Coast Ocean Acidification and Hypoxia Science Panel
California Current Acidification Network (C-CAN)
Ocean Acidification Around the World
An interactive tool designed to make ocean acidification understandable by tracking emerging science and providing updates on what is occurring and where.
Washington Ocean Acidification Center
Ocean Acidification.Net
An informational website to bring information on ocean acidification to scientists, policymakers, and the public. Maintained by the International Geosphere-Biosphere Programme (IGBP).
NANOOS and the Shellfish Industry
A Senior Biologist at the Pacific Shellfish Institute describes how near-real time water quality data is used to inform shellfish growers and minimize larval mortalities.
IOOS Pacific Region Ocean Acidification
Ocean Technology Transition Project
NANOOS and its partners have been awarded a grant to improve OA observing capability along the U.S. west coast.
Related NANOOS Products
NANOOS Visualization System (NVS)
NVS Shellfish Growers App
NVS Data Explorer App
NVS Salish Cruise App
Related Videos
NOAA IOOS Video on Ocean Acidification
Washington Ocean Acidification Center
University of Washington Applied Physics Laboratory Video on the Washington Ocean Acidification Center and NANOOS
Acidity on the Halfshell
A five minute presentation by Libby Jewett of NOAA OAP.
Ocean Acidification in Puget Sound
Produced by students from the Suquamish Tribal Early College High School.
The Other CO2 Problem
Animation video by Ridgeway School students, Plymouth, UK.
Tracking an Ocean of Carbon
Narrated by Dr. Chris Sabine.
Acid Ocean
A short BBC Newsnight film on the impact of CO2 on the Ocean.