Lack of Oxygen? Hypoxia in Pacific Northwest Waters
Since 2002, dead zones have formed every summer off the coast of Oregon and Washington. On this page, you can find the answers to the following questions:
How are they made? Watch the animation to learn more
Are they currently happening? Check out some data after the animation.
Where are the dead zones in Oregon and Washington happening?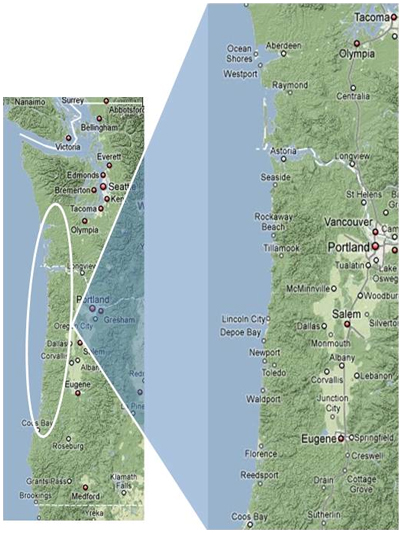 Hypoxic water has been observed in numerous areas off the coasts of Washington and Oregon in recent years. Dead zones do not necessarily occur in the same area from year to year, so making a generalization of which areas typically have a dead zone year after year is difficult.
How are dead zones off the coast of Oregon and Washington made?
Are dead zones currently happening off the coast of Oregon and Washington?
Data collected by gliders off the coast of Newport, Oregon. The graphs are a unique view of a vertical cross-section of the ocean. The white line in the dissolved oxygen graph shows where the hypoxic water is.